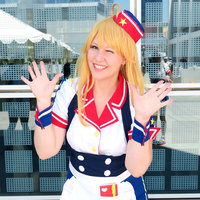 Miki - Burger Skater
Role

Cosplayer

Series
Characters
Details

I finally made my fave im@s costuuuuume <3 I anticipate that I'll be wearing this one a lot!! It's super comfy and any excuse for food-related photos is great 8D!

Michi and I had an EPIC sewing sweatshop weekend and knocked these out in record time!! Shout out to Ichigo Kitty, Inabari and their Burger Skater crew for providing construction notes from their outfits, too! Thanks ladies <3!

Pretty much ALL these photos are by Takahiro / TontonUSA!! It's super fun to shoot with a fellow im@s fan :D!