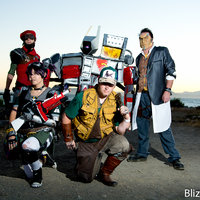 Borderlands Shoot 2014
Role

Photographer

Series
Characters
Details

Borderlands Photoshoot 2014

Gaige - SheikChan Cosplay
Mordecai: VI
Deathtrap: Drcane
Scooter: Jeremiah S.
Handsome Jack: Evel Fett

This ain't no place for no heroes~

This ain't the most hospitable location to shoot but it was close enough that everyone here could make it to. Oddly enough, except for probably Deathtrap, I had the most trouble marching to the location due to the rough terrain. Was it worth the walk? Big time!

Definitely fun derping around and getting some striking lighting, but also the colors from all the weird graffiti and "modern art masterpieces" helped too.