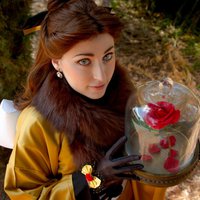 Kimono Belle
Role

Cosplayer

Series
Characters
Details

Was inspired by the fan art by STARshadowmagic (http://fashionablygeek.com/design/kimono-disney-princesses/)

I bought actual furisode Kimono fabric online from www.ichiroya.com/ that came already baised in place and I just had to sew it together. I hand painted the Beast head onto separate cotton fabric with fabric paint, that I fray checked and cut out and then hand sewed onto the silk.

I shopped amazon.com for the faux fur, gloves, gold flats, bell jar, and base wig. Used fabric, cords, and ribbon bought from JoAnns to make the juban, obi, and other accessories. And the large rose beads are from Michael's.

For the Enchanted Rose prop I got a fake rose from Michael's that I bent into the curved shape and used thermoplastic to make a flattened out base to hold the rose up. I covered that base with wood-grain patterned paper and hot glued some extra petals around the stem base. I added a small red LED light to the center of the rose and then placed the bell jar over the top.