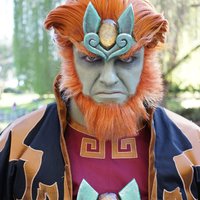 Wind Waker Ganondorf
Role

Seamstress

Series
Characters
Details

Ever since EVZombie and I started cosplaying form the Zelda series he's always wanted to make each of the different versions of Ganondorf. It took us a while to start that project but we now finally have another Ganondorf added to the list of completed costumes!

Right from the beginning I knew this project was going to be a lot more difficult than you'd think at first glance. It actually took me a few tests to figure out what would be the best way to make those massive sleeves. I eventually just settled on a furisode sleeve shape (yes, Ganon is an unmarried, young lady, can't you tell??) and went from there.

Fabric shopping for this was not only expensive, but unexpected. I knew I wanted to use black cotton sateen for the coat and skirt, but then I happened to find the right color red in a cotton sateen as well, which was perfect! The gold was the last thing I found and at first I wasn't even sure it would be right for the costume because of how shiny it is, but when I set it with the other fabrics I'd already chosen, I knew I had to get it! It was too perfect not to.

With all the fabrics picked, the patterns tested, it was time to start appliqueing this beast. I'm pretty sure that I used at least four or five rolls of heat n bond for this applique project, which I think is a record setter for me. I started with the sleeves first and then moved on to the back, which probably took the longest because of all the circles and weird shapes. Once the coat was done though, the rest of the costume seemed to come together pretty quickly. Lots of applique and lots of stabilizer to keep everything in shape.

The head and chest jewel were both funfoam covered in worbla. They were both painted with gesso, sanded, and then hand painted. I have a tough time with yellow resin, so both of the oval gems were painted on the back to make sure they stayed the right color.

The wig was one of the last things I did since I was a little unsure of how I wanted to style it. I eventually decided on a more wavy look rather than spiked, which I think really works for the character. The beard I actually FW ink dyed, which actually seemed to work really well!

EVZombie made the swords, I just painted them.

Overall, super pleased with this and glad to finally have it finished!!!