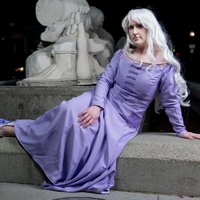 Lady Amalthea
Role

Cosplayer

Series
Characters
Details

Wow I can't believe I finished this costume so fast. O_O I was originally going to wait to complete this, but as soon as I heard that the Last Unicorn Screening Tour was going to be in my area I knew I had to get this done. So I rushed up to my JoAnn's and magically (because this never happens) I found all the fabrics I needed in one go. I even managed to mostly put together a Lir as well (which I will post once we finish him)!

I used a beautiful lavender crepe satin for the dress. I actually found the exact same fabric but in a darker color in the remnants bin, which is what I used for the laces and pockets. The trim I found online and at first I was a little worried about the color, but once I tested it on the dress all my doubts were gone.

The dress was based off of a Medieval Butterick pattern that I've had for years and I just modified it until I was happy with the way it was sitting and added the huge train. The sleeves were the most troublesome part since in the movie they aren't puffs, just more of a gathered sleeve, which I wanted to do my best to recreate. After a few patterning tests, I was pretty happy with the end result, and just went for it. I should also add this is my first cosplay that has pockets and I'm super excited about that! :D

Overall I'm super happy with the way this costume came out! I hope to be able to do a photoshoot for her soon too.