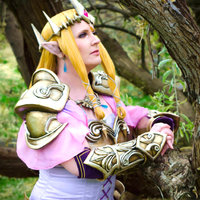 Queen Zelda
Role

Cosplayer

Series
Characters
Details

Cosplay Construction Notes:

Queen Zelda - Hyrule Warriors

Collaborating with EVZombie!

The Apron / Tabard:
This started as a base of a very bright blue satin fabric. I used heat n bond on all the other satin fabrics, cut them out, and heated them to the base blue fabric and a light chiffon fabric, which is what makes the gradient. Once everything was heated and in the right place I slowly appliqued all the pieces and then hemmed the edges.

The Armor:
All of the armor started out as paper test patterns I traced onto craft foam. I cut the foam out and then covered them in worbla and heated them into shape. The gauntlets, pauldrons, greaves, necklace, and crown have been covered in worbla and I've added the additional swirl details using rolled worbla scraps. Once those were done I smoothed them out with gesso and wood filler and painted all the armor I have completed. The painting process took hours for each piece, mainly because I had to mix my own colors for that pale gold Zelda has and because those swirls just take forever to detail!!

Bust Armor:
I so procrastinated on this piece... it was literally the last thing I made for Zelda. I've only done armor like this a handful of times and it's just not my favorite. The boob cups are just worbla so I had more control over the shape and let's be honest.... they didn't need to be any bigger by adding foam. XD Everything else is the exact same as the other armor pieces.

The Gems:
The drop jewels are something I found on Etsy and once I had those in hand, I used it to match the color of the custom resin gems I made. I added a few extra crystals in a similar color to the drop beads because, well... I wanted to!

The Skirt:
This has been quite the project. All the designs were cut out, applied with heat n bond, and appliqued. I think overall it took me about two weeks worth of work. The main skirt is a pink and white taffeta with the gold crepe satin designs appliqued on. I used an additional pieces of taffeta for the lining and sprayed it with ColorTool for the gradient affect!

The Wig:
Holy cow this wig was a massive project but I'm so happy to finally see it finished. Made from an Arda Wigs Le Tigre and I think about three packages of wefts. I used a similar method as on the HW Ganondorf wig, with a small inner structure of batting and felt to give it that extra fullness. The tips were sculpted with fimo clay and the hair was wrapped with a leather cording.

The Shoulder Ruffles:
I found a light pale pink lining and used that along with the remaining gradient chiffon I had left over from the apron, hemmed the edges, and pleated it to give it a nice ruffled look.

The Gloves and Leggings:
Both were made out of a dark plum spandex. I stabilized the inside at the tips so I could do a gold satin stitch near the edge without it bunching too much.

The Corset:
I've made "corsets" before but I don't feel that I ever actually made them the correct way. This time I was bound and determined to make it as right as possible. I used a sturdy cotton for the inner structure and sewed boning channels down every main seam. Since her character design doesn't necessarily look like the corset opens in the front I actually made a separating zipper for the back and kept the front closed. I should also note that those curved pieces were a pain to pattern and keep consistently even! Uhg!

The Shorts:
Seriously easy. I found a summer shorts pattern online and modified the pattern to look more like Zelda's shorts. I used a stretch taffeta and therefore I didn't need to add a zipper. Hooray for pull on shorts!

SO happy to finally have this monster project finally finished.