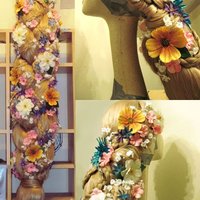 Rapunzel
Role

Cosplayer

Series
Characters
Details

I'm currently working on a Rapunzel from Disney's Tangled. I am hoping to have her finished by Sac Summer 2015. Collaborating with Alasse Veneanar Captivations and EVZombie!

I have the wig completed. It's massive and weighs about ten pounds. It was constructed from five Epic Cosplay wigs and three rolls of batting. I also altered all of the flowers to make them as accurate to the movie as possible.

The skirt is nearly completed, I just need to add a zipper and it's done. I used a beautiful antique satin and hand embroidered all the designs. The middle panel was drawn by me in Photoshop and I sent it to Spoonflower to be printed. I sent off dozens of samples trying to get the exact right color and I finally settled on the current one and I'm so happy I did. I think it matches very nicely. The petticoat is a light bridal satin fabric with a double rolled hem (for fullness) and a white trim sewn to it.

I've finished the hand embroidery on the sleeves. Embroidering onto the light pink stretch mesh has proven to be quite a challenge, but I'm very happy with the results.

I'm currently working on patterning the bodice and corset.

More to come as I finish it!