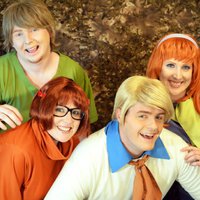 Scooby Doo
Role

Cosplayer

Series
Characters
Details

I watched Scooby Doo as a kid every day, every hour, every chance I had. If it was on TV, I was watching it. It was so quirky and fun, and cosplaying these as an adult years later is so exciting and fun to me. I always thought myself more of the Velma type, but for this group I picked Daphne. I was trying to go out of my comfort zone.

I made these costumes a few Halloweens ago and never didn't get to do a full shoot for all four of them until now. These costumes looked so simple when I originally planned them, but when I sat down to make them, each one of them I struggled on with something different. I am very pleased with the end result though!

Freddie:
The pants and undershirt are made out of a satiny suiting fabric, he even has pockets!! The shirt is a white knit and the ascot is a lightweight polyester material.

Daphne:
The dress is a crepe with the designs appliqued on. The ascot is the same polyester as Freddie's ascot and the pants are a pink knit. It took me forever to find the right shoes, but I finally did and just painted them the right color. The headband was also painted to match.

Velma:
I have no idea why but her costume gave me the hardest time. Her socks and shirt are made of a knit type fabric. Her pleated skirt is a polyester. I also found a pair of shoes that were close and painted them. I have no idea where I found the glasses, but they are so perfect.

Shaggy:
His shirt is a green knit and the pants are a corduroy, which also has pockets!!