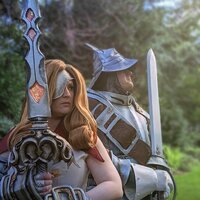 General Beatrix
Role

Cosplayer

Series
Characters
Details

Beatrix & Steiner - Final Fantasy IX
Cosplaying with:
Eric , Travis Felver , & Alasse Veneanar Captivations

Welp, dream cosplay has finally been realized. It seems like we'd been talking about cosplaying from FF9 forever now and to finally have it finished almost blows my mind. I'm so happy with how she came out though and cannot wait to share some photos.

Wig:
As per the norm, I started with the wig. I knew this was going to be the toughest piece on the Beatrix cosplay… and I was right. This wig was created using three of Arda Wigs Le Tigre's in Sandy Brown. I started by chopping up the first two wigs and then sewing them into the base wig. After that it was time to figure out how to make those crazy curls. I knew I wanted to keep it as light as possible, so I built a curl base out of craft felt and stuffing, then glued the hair onto that. It was super tedious trying to keep the curls looking nice but after making eight of them, I found my groove. The curls did turn out nice, but the wig is still really heavy. Oh well!

Armor:
As always, the armor started out as butcher paper test patterns. At first glance, her armor seemed like it would be pretty simple, but once I jumped into this I really struggled with proportions and shapes. It took me a while to figure out how all the layers fit together and how I could rig it to still be able to use my right arm. I managed to rig up a system with elastic strips so I could bend my elbow, but the rest of the movement is pretty limited, especially with all the chunky armor at the wrist. Once it was worblaed, sanded, and painted, I was able to add all the pretty filigree designs I'd found off of Etsy to the armor, to give it a nice pop of detail.

Coat:
The coat was another piece I was a little nervous to start. I wasn't sure how to make it look right but still functional. I ended up going with a separating zipper in the front and working purse clasps for the belt. Seriously, the easiest costume to put on. The rose in the back was something I was SUPER excited for. I ended up using some scrap taffeta fabrics I've either used for other project or just have had stored away for forever. Luckily I had three different shades of red so I could give the rose an almost stained glass effect. I cut out each of the pieces and used heat n bond to attach them to the back of the coat and satin stitched around each of the pieces to hide the edges.

Belt:
These swirls, OMG! So first, I used a strip of butcher paper to measure out how long of a belt I needed and then to draw out these designs so I had an idea of what the heck was going on with them. After that, I used rolled worbla scraps so slowly build the swirl shapes and then formed them around my waist where the belt would sit. I then attached the worbla swirls to a vinyl belt I made using metal prongs. It's super heavy, but seemed to work! Because this belt is so huge, I even had to make the belt buckle for it!

Leggings:
Easiest part of the costume, hands down. I used the same leggings pattern that I use for all my leggings and sewed them up in less than an hour. I ten used the same dupioni I used for the coat to make the underwear and just attached them to the leggings.

Eyepatch, gloves, and boot covers:
I had some champagne vinyl left over from another project and was wondering what in the world I could do with it and then it dawned on me that it really matched the fabric I chose for the coat. I had just enough to make the eyepatch, the gloves, the boot covers, and was able to run a trim down the front of the coat with it as well. Why? Because I could!

Shoes & shoe armor:
Found a nice pair of lower heeled ankle boots that had the right shape in the back. All I ended up doing was building worbla armor plates similar to Ganondorf and Kain and the look was complete.