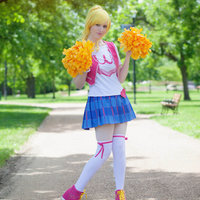 Happy Maker~!
Role

Cosplayer

Series
Characters
Details

Just about everything is in progress~ Need to remake my accessories(which I forgot to even wear for my shoot~ OTL) and my wig desperately needs replaced. Shirt and vest were bought online.

I made my skirt using Sparkle Pipsi's school idol plaid fabric and skirt tutorial. My first go at it came out a little wonky but thanks to some advice from TotallyToastyAri I was able to fix it up. I'm a total beginner when it comes to sewing my own cosplays so I'm totally thrilled with out it turned out.

Photos are by the wonderful Mary Cochran Cosplay Photography~ I wasn't able to fix my skirt before the shoot so it's pinned to fit and still looks a bit wonky.