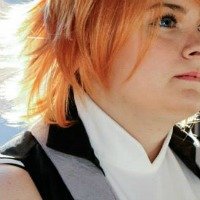 ϟNora Valkyrie ϟ
Role

Cosplayer

Series
Characters
Details

.I've done a few alterations to it , including adding a petticoat underneath the skirt for volume. I did a little something different for my makeup too. My contacts are Flora Blossom Blue in the previews and solo shoot. They will a different pair for my full JNPR shoot in the summer. My costume is a Cosplay Fu purchase. The wig and shoes are both from Amazon.

I'm going to give you a little background on this cosplay. My friend is named Nick. He is super stoic and serious most of the time. This contrasts to how ,when we first met I was very hyper and outgoing. We are very close and have been for years. Well anyway one day we are on the phone together and he tells me to watch a series call 'RWBY' and that they are a pair of characters that mirror the two of us. Of course he was talking about Nora and Ren. From that moment ,we decided to cosplay the pair together!

I did a review of the cosplay. It can be found here (http://h00towlsh00t.livejournal.com/17742.html)

~
The solo shoot is by Northstar Photography - <a href="https://www.facebook.com/Northstar-Photography">FACEBOOK</a> , <a href="http://vandalsgirl.tumblr.com/">TUMBLR</a>

So on Sunday March 9,2014 I went to the small cosplay even called Cosplay Craze in Anchorage ,Alaska. It was a lot of fun! I was dressed as Nora and am pretty happy with how I looked!

I finally got to have my solo shoot as Nora that day! The campus was a great setting for the photos. Though it was butts cold outside (hence the tights). It was great working with Lisa. She is very talented and kind. I'd recommend her to any cosplayer. Please check out her other work!