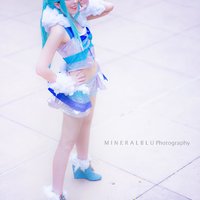 Lisia
Role

Cosplayer

Series
Characters
Details

This costume was out of my comfort zone, purely because I've never been a cute Idol of any sort!

All of the silver is some weird, non-stretch shiny costumy thing. It doesn't stretch. AT ALL. The skirt over the shorts is a circle skirt with tons of horsehair braid sewn in. It snaps over the shorts. The cloud-like bits are made of quilt batting, pulled apart and 'fluffed' before being hot glued on.

Photo by Minerblu Photography and the rest by Firecloak!