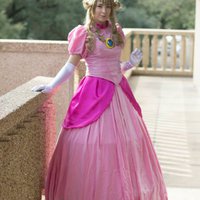 Princess Peach
Role

Cosplayer

Series
Characters
Details

I never thought I'd ever be a Princess, since this is SO different than my usual costume choice, but then I saw this shiny bridal sateen on sale for about $4 a yard... it sealed my fate. It's such a cool fabric-- it glitters! :D

I used a simplicity pattern-- cant remember which one, whoops, and altered the top portion quite extensively. The skirt is about 5 yards of fabric alone, oi boy! It's kinda heavy but I love to twirl around in it, ahhh!

I'd love to style a new wig. This was one I just had on hand, and I styled it to look more 'realistic' than cartoony. I like it, but it's not very comfy. Props include cast iron skillet (yes a real one, that weighs almost ten pounds), tennis racket and one of my gold clubs! Because reasons.

Photos by PopCandy Photo and Firecloak!