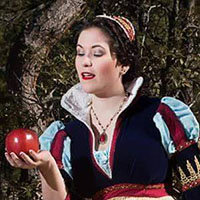 Renaissance Snow White
Role

Cosplayer

Series
Characters
Details

A historically accurate Disney Princess of my own design. Early Renaissance period.
This costume was very uncomfortable to wear and I could not put it on or take it off without assistance. I have since dismantled it to use the skirt fabric in a new Snow White costume. But I did get to wear it for a fashion show panel at Phoenix Comic Con 2015! And also somehow ended up on promotional booklets in this, for Phoenix Comic Con 2016.