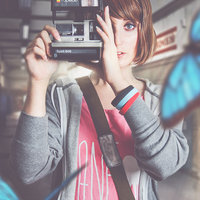 Max Caulfield
Role

Cosplayer

Series
Characters
Details

THIS GAME. I still am stunned by its mundane beauty and the heart-wrenching truth it lets us discover through its strong characters and down-to-the-core gameplay. I, of course, HAD to cosplay Max.

T-shirt: For my first round as Max, I used the official t-shirt I bought from Insert Coin Clothing. It's more of a bubblegum pink, so I'll be switching it out for one I'm making very soon!

Outfit/accessories: I'm still in the works of getting a polaroid camera and making her bag, but everything else was bought or found.

Shoes: I free handed her skull "Swag Life" imagery on her sneakers at 2am because that was the smart thing to do! Haha

Wig ver. 2: Bought a side part wig and heat formed the shape after trimming and cutting the bangs/length. Teased for body and then painted in some darker roots/shadows, which also holds the style in place without hairspray!