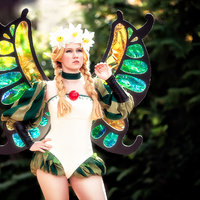 Mercedes
Role

Cosplayer

Series
Characters
Details

This costume was a lot of fun to make, but very stressful at the same time!
Wig was hand-wefted using an Arda wig in Light Blonde and wefts in Fairy Blonde. The wings are made using Fantasy Film and poster board. I also made the crown using a friendship bracelet knotting technique, so that part alone took about 10-12 hours!
There are a total of around 120 costume pattern pieces (the corset has 4 layers along with steel boning).

The crossbow was made using a combination of EVA foam, PVC, and Plexiglass painted with glass paint. The pattern for this was done by cosplayer Sewing Savage Cosplay.