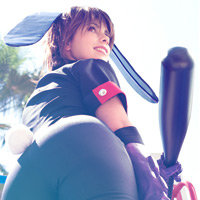 Ootsuki Mina
Role

Cosplayer

Series
Characters
Details

I comissioned the dress parts of this costume, and unfortunately, it came in the wrong color! I had to paint the vinyl boots and gloves with a special paint to get the purple I wanted. I had specified to make the suit with a matte material, but in retrospect, something shiny and stretchy woulda been better.

The first time around I used some plastic baseball bats as props, the second time I added all the details to my cosplay, like the bunny zipper, choker, and accurate props made by JDT productions. the ears are made with foamies and posterboard, they were kinda heavy and kept flopping down.

The most exciting thing was to get an ALMOST complete group of all the Minas at AFO. Getsumen to Heiki Mina is a silly and not particularly good show that I happen to love, so seeing all the bunny girls made me very happy, and every one did such a good job on their costumes.

More photos and construction about this costume: <a href="http://otakitty.blogspot.com/search/label/Getsumento%20Heiki%20Mina">Otakitty's Ootsuki Mina</a>.