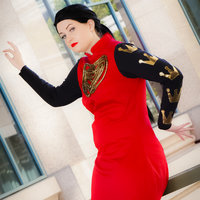 Bisexual First Lady
Role

Cosplayer

Series
Characters
Details

RIP me for falling so hard for this character who is only in 4 chapters of Steel Ball Run.
I thought this would be a quick and simple cosplay but oh what a fool I was.
The red base dress was super easy. I used a commercial pattern of a 1960s shift dress. I then drafted my own sleeve and collar off of that pattern. The dress is made of red stretch sateen.
Then came the sleeves. I used my drafted sleeve and a heavier weight black knit for the sleeves themselves, easy enough. Then I entered crown hell. The crowns are made of gold mystique spandex (shout out to joann who carries this now) that I then heat n bonded onto the sleeve. There are 10 crowns which I meticulously cut out of fabric, then heat n bond, then stitched around. So crown hell. I was kind of hoping the heat n bond would be strong enough to hold it alone, but it wasn't so I had to sew them down as well.
The heart was also hell. I cut strips of the same gold spandex as the sleeves and wrapped it around upholstery cording, then snaked it around the top into a heart. I then slowly but surely sewed it down onto the top and amazingly didn't create any tucks or anything.
I seam ripped the inner part of the leggings and sewed rectangles of gold spandex on the front thigh and calf, and then I used my handy dandy serger to close the leggings up. My original plan had been to glue beads onto them but the ones I ordered were tiny so I had to improvise.