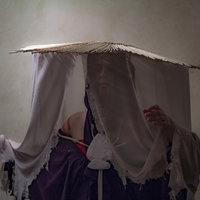 The Painted Lady
Role

Cosplayer

Series
Characters
Details

Made in about a week for a Halloween party. One of these days I'll wear it to an event! (the hat makes transportation.. difficult.)

Fabrics are from my local JoMar. The hat is about four packages of wooden skewers hot glued together. The white... thingy... is painted insulation foam.

The whole costume cost me about $30!