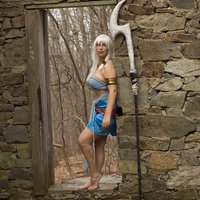 Kidagakash
Role

Cosplayer

Series
Characters
Details

I always get super nervous about costumes that bare my stomach, but I think I did okay here!

I took the original design and added my own elements and details to it. Kida is a princess, albeit one from a crumbling civilization.

The costume is made out of matte satin, poly chiffon, and a beautiful purple brocade, with rhinestone, pearl, and shell accents.
The staff is PVC pipe coated in hot glue and painted, and the top is insulation foam coated in wood glue and painted with acrylics. The staff comes apart into four pieces for easy transport.
The arm cuff is made out of EVA foam, heat-sealed and painted with gold acrylic paints.