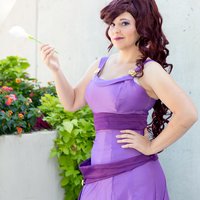 Megara
Role

Cosplayer

Series
Characters
Details

"I'm a damsel, I'm in distress, I can handle this. Have a nice day!"

I have always admired Meg's sass, spunk, and style, and I absolutely love portraying this amazing lady. She's in my top three leading Disney heroines (if not THE top one, but hey, it's hard to choose), so of course she was my very first Disney costume.

The fabric is the matte casa satin from JoAnn. The sash and belt are made out of two layers of satin with a heavier bottomweight fabric underneath to keep them from collapsing in on themselves. The wig is a Jeannie in Mahogany from Arda with a curly clip (also in Mahogany).