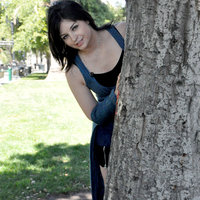 Rinoa Heartilly- FFVIII
Role

Cosplayer

Series
Characters
Details

Made by me, worn to fanime '11

Rinoa was a character I've wanted to do foreeeeeever. FFVIII has a very special place in my heart. The problem was the damn fabric for the duster and arm sock thingies. The only time I ever saw it done right was when the person hand knit it themselves.. which I dont have the inclination to do. However I did eventually find this fabric, and once I doubled it it seemed to work well enough. Has just about the right texture though the color is obviously slightly off.
Next time I'll use a wig though..