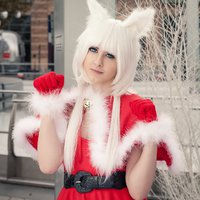 Santa Vanilla
Role

Cosplayer

Series
Characters
Details

Joint project with Nebulaneko (https://www.facebook.com/NebulaNeko/)

Made out of fleece, boa feathers, and fur - Bought by Nebulaneko

Circle skirt connected to a strapless bodice pattern was drafted. Cape ties with satin ribbon and a bell between the tie. Ears are made from fur in a triangle like pattern.

Wig is from my Shiroyasha cosplay, cut and styled more.