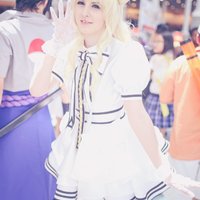 King Arthur
Role

Cosplayer

Series
Characters
Details

Crown was made by the lovely https://www.facebook.com/DV8props
Please be sure to commission him if you're ever looking for a new prop of your very own * W*

Costume is made with 6 yards royal duchess satin, 20 yards of black bias tape, 10 yards of black lace, 2 yards of white lace, 21 buttons, and crinoline.

The top is basically a women's dress top. I took my Asuka sleeves, altered them shorter, stuffed crinoline in the middle and sewed it all shut with a lining to give it the princess/puff look. The buttons are attached to a detachable hidden button. It slides over the buttons of the blouse with a bit of work. Bow is made with satin, ribbon, and bias tape. I had to hand sew the bottom ends of the bias tape to give them the perfect point and it took a bit of time.

Skirt is made with 6 circle skirts. 2 for each tier. Horsehair is only placed on the bottom tier of the skirt. Lace followed after. Bias tape was top stitched by my machine all the way around. I had to measure the distance and sew each side 2 times for each row. the waistband also contains the bias tape with stiff interfacing sewn in. It opens and closes with an invisible zipper.

Bows were all stuffed with poly fill to give them the extra fluff. I hand sewed the knot on them and with assitance sewed it all down to the skirt.

Stockings were bought off an ebay site many years ago.
Glovers were bought off amazon
Shoes were hand painted with fabric paint and a medium. Ribbon is detached and just wraps around my leg.

Missing my bear but w/e i'll get to it eventually~!