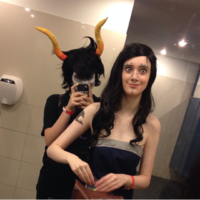 Fem Gajeel
Role

Cosplayer

Series
Characters
Details

This is the third cosplay I made for Fan Expo 2014 in Toronto :)

Technically, I wasn't supposed to have made this because I was so busy with the other ones, but I did anyways because it was something I really wanted to do. Gajeel has always been one of my favourite characters on Fairy Tail, but I knew I could never pull off his canon appearance so I decided to do a genderbend :)

The whole dress was of my design, and is made out of simple broadcloth/cotton fabric, though the bolts have been glued on and are made of simple craft foam. The bolts on my face are craft foam as well, and I used fake-eyelash glue to keep them on my face. I had my mom help with stenciling the Fairy Tail insignia onto my shoulder with simple snazaroo pastel, but I forgot my good sealant so I had to do a quick job with some hairspray.