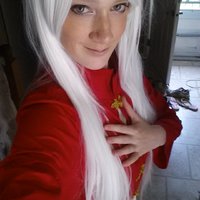 Ayame Sohma
Role

Cosplayer

Series
Characters
Details

I made this cosplay as my first cosplay for Fan Expo 2014 in Toronto.

Ayame was someone I wanted to cosplay because I absolutely loved his personality, and I knew he would be a lot of fun to act as at the con. And it was. Being flamboyant and obsessed with finding my brother Yuki brought a lot of laughs from people who understood.

The slip and the coat are both made from broadcloth/cotton fabric, and the coat has golden frogs I bought on ebay hand sewn on. The wig I also bought on ebay, and I just wore normal shoes for it. I treated this one as a relax-day cosplay (where I didn't take it all too seriously).