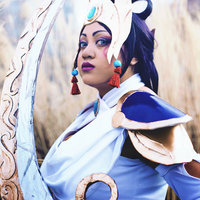 Lunar Goddess Diana
Role

Cosplayer

Series
Characters
Details

Debuted at Magfest 2014
Lunar Diana has been on my "must cosplay" list as soon as I laid eyes on her! I had so much fun being her, I felt very powerful and badass, it was a nice feeling!
I'd like to revisit her and update her for another con, since her pauldrons and weapon are still not up to par with what I want just yet!
Her hair loops were probably the hardest part of the costume, and are barely visible haha! There it much I need to improve but for now I am very happy to have been able to cosplay as her.