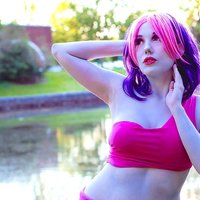 Plum
Role

Cosplayer

Series
Characters
Details

Full body make-up was oil-based ben nye in two colors, a grey and a blue mixed together to create a level of tones and then bright makeup to add extra rosy cheeks!

As for sewing, the top was off-the shoulder with sewn in cups to keep the ladies in place, acting almost like a swim-suit top.

The skirt was a bit of a challenge, being three layers of stretch it took both lining it and interfacing to keep the scalloped hem in place on each of the layers.

Wig I wefted together an old pink wig with a short purple one and then trimmed it to get it right!

Elf ears were made by Ardani Costumes and painted with the Ben Nye makeup.