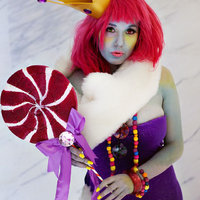 Candy Wife (Natazilla Version)
Role

Cosplayer

Series
Characters
Details

Cosplaying Candy Wife has actually always been a dream of mine, and then I saw Natasha Allegri's version which were PERFECT and knew I had to make it!

The dress was easy enough to make, the most consuming part being handstitching the fur to the slit to make it fold neatly into the gown. The candy wand was made from a styrofoam disks which were carved into and then painted, then covered in a layer of gesso - the ribbon held up by wire. And of course, the make up took almost 3 hours.