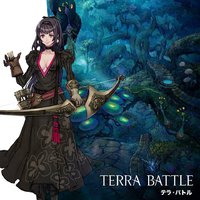 Grace the archer
Role

Cosplayer

Series
Characters
Details

I have discovered Terra Battle last year. Being a big fan of Kimihiko Fujisaka, the character designer behind every Drakengard's game (my favorite franchise), Last Story and some Fire Emblem, Ive found the game after stumbling on a picture of Amina (Mathi's character). Ive shown the game to said Mathi and we both became very addicted to it (her most then me, I think).

Everything you see with this cosplay, apart from the boots, was made by me. The prop was crafted with the help of manager-san (a.k.a PitFire Photography).

I gave my all with the sewing part because at first, we were supposed to go for the masquerade. The skirt has (even if it doesnt show) two layers. The under layer is red, cause Im fancy like that. Ive sewn horse hair braid in the bottom fold of both layers to force a shape to the skirt. The flower pattern is a simple heat and bound applique, though I will sew it properly for further use of the cosplay. Heat and bound only hold up to some extend, real stitches will make it last forever.

I made my own pattern for the top and it is lined. For this part, I was greatly inspired by a fellow cosplayer, Sarah Shortcake, who also made a stunning Grace. You should, by the way, totally check her out, for she is a very talented and amazing cosplayer!
I have, in fact, asked her a few construction questions about that part because I liked her version of the character a lot. The back is laced just for the fun of it
tongue emoticon
. The only part Im not 100% satisfied with are the sleeves. I wish it could have been more 'poofy', but oh well, Thats the way they ended up being.

I made the gloves and belt. It was my first attempt at sewing faux cloathing leather. Im very pleased with how the belt turned out. As for the gloves....to date, it is my second pair of completely home-made gloves. I hate making gloves =w=. I've used an historical glove pattern to make them and modified it to fit Grace's design. They are not perfect, but at least they are accurate =,D.

Ive chosen this picture first because you can actually see the bow (precious, precious prop *n*). This one was made with old school techniques. We've (as in me and manager-san) made a wooden base, glued many many layers of insulation foam, carved the shape, applied mod podge and sended. The key to any smooth prop is sending. A lot of sending. The details are made with a mix of craft foam, fimo clay and a tiny bit of worbla (yes, almost no worbla was used in the making of this bow). The painting was done with spray paint.

Hope you guys like it!