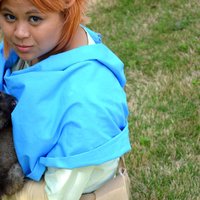 Yoon
Role

Cosplayer

Series
Characters
Details

Dear sweet baby Yoon is my other half for better or worst. We are secretly the same person.

Like seriously, my entire college years could be summed up in the words "I will not marry you and I definitely don't remember giving birth to you."

When I started watching AnY and he appeared on screen, I just knew I had to cosplay him. Thesis be damned, Yoon was being made for the Annual Oklahoma Cosplayers Photoshoot.

There are several things I'd like to fix on him before I wear him again, but for the most part, I'm pleased with how this all turned out. My wig was styled, and then re-styled, by the amazing Rin Allison.

All my cosplaying friends are now adding AnY to their plans. Ha!