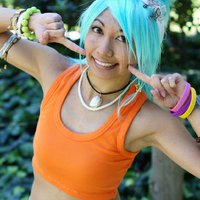 Frida from Bust a Groove
Role

Cosplayer

Series
Characters
Details

About this Costume
Construction Details:
Top is bought and modified to be cropped. Camo pants are also bought, no modded. Wig from CosWorx and styled in a half pony tail and styled with headband and accessories. Armbands and other accessories are various findings from my collection of knick-knacks.
Personal Thoughts:
I love Bust of Groove and dancing in general.