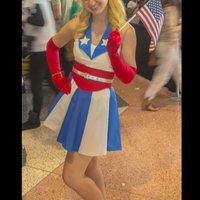 Captain America's USO Girl
Role

Cosplayer

Series
Characters
Details

This costume was made by me with help from my granny. She loves to help and it gives her something to do to keep busy. This costume was in the works in April of 2013 when my papa (grandfather) passed away, leaving my granny lonely. Really without me and this costume coming over every weekend she would not have made it through that time as well as she did. Cosplay saved her. And me too really.
The top is a white corset and the red piece is a waist cincher, I went without breathing that day. And fun fact, the skirt is made out of an umbrella...granny had it around her house and it was the right color, pattern and fabric, so we converted it.